If you're looking for a fun-filled island resort itinerary that's perfect for singles, couples, and families, you've come to the right place. Here's just one way you can spend a magical day at one of the best resorts in Vanuatu, Aore Island Resort.
7am: Wake Up Time
Waking up to the sound of waves and the smell of the ocean just steps away from your balcony really sets your mood for the day. Make yourself a tea or coffee and take in the gentle morning breeze as your day begins
8am: Make Your Way to Breakfast – the Aore Island Resort Way!
What better way to get to breakfast than snorkelling? In each of our bungalows, we provide our guests with a snorkel and mask for the duration of their stay – making it easy to say good morning to all the nemo fish on your way to breakfast.
8:30am: Breakfast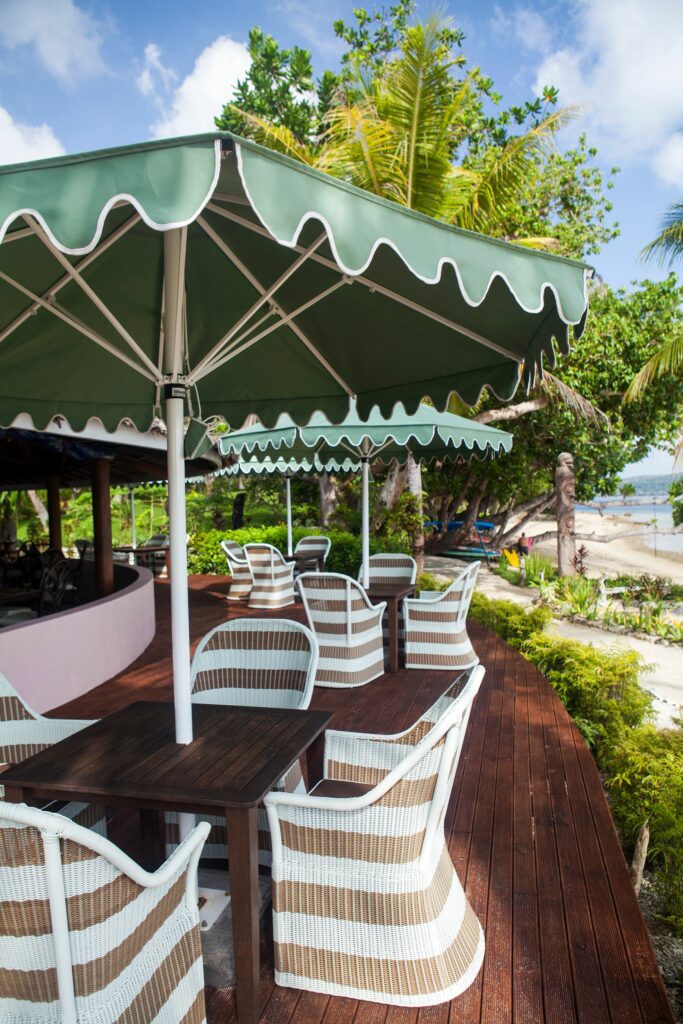 You've likely worked up an appetite from your morning snorkel, so we suggest you sidle up under an umbrella and palm tree on the restaurant deck while the beautiful staff get your fresh papaya boat or delicious banana bread ready. There is an extensive a-la-carte menu included in your tariff, but if you would like something more substantial, why not try our chefs' delicious free-range omelettes?
10am: Enjoy Basket Weaving Class
The best way to get into the island spirit is to join Rolina for her local weaving class under the palm trees. Here you will learn how to make local baskets that are used in lieu of plastic bags as Vanuatu is a plastic-free country.
11am: Massage Time
The morning of activities has you ready for your 60-minute Melanesian massage at our day spa to relax and unwind. See you soon!
12pm: Relax in a Hammock
The massage has left you feeling refreshed and relaxed, so a little downtime in one of the resort's hammocks reading a book (with a cocktail) will do for the next hour while you slowly wake up from your massage coma.
1pm: Lunchtime
The local fisherman dropped by this morning which means the menu has fresh lobster and sea crab. This menu changes daily, so the hardest decision of the day will be what to order!
2pm: Enjoy a Bike Ride
After lunch you are wanting to work off your food, so you grab a resort complimentary bike and ride an easy 10 minutes to our local kindergarten and school. Here you can see how the local children from the island learn, donate some items if you have some and even play a game of soccer…beware these children are very good! After the school visit, you find a private beach to take a dip at before going on the hunt for our WWII bunkers.
4pm: Back Into Relaxation Mode
All that riding has made you sweaty. Once you arrive back at Aore Island Resort, it's time to take a dip in the pool with an icy cold local Tusker beer on the side, reminiscing about your day on the island so far – and what's to come!
5:30pm: Watch the Stunning Sunset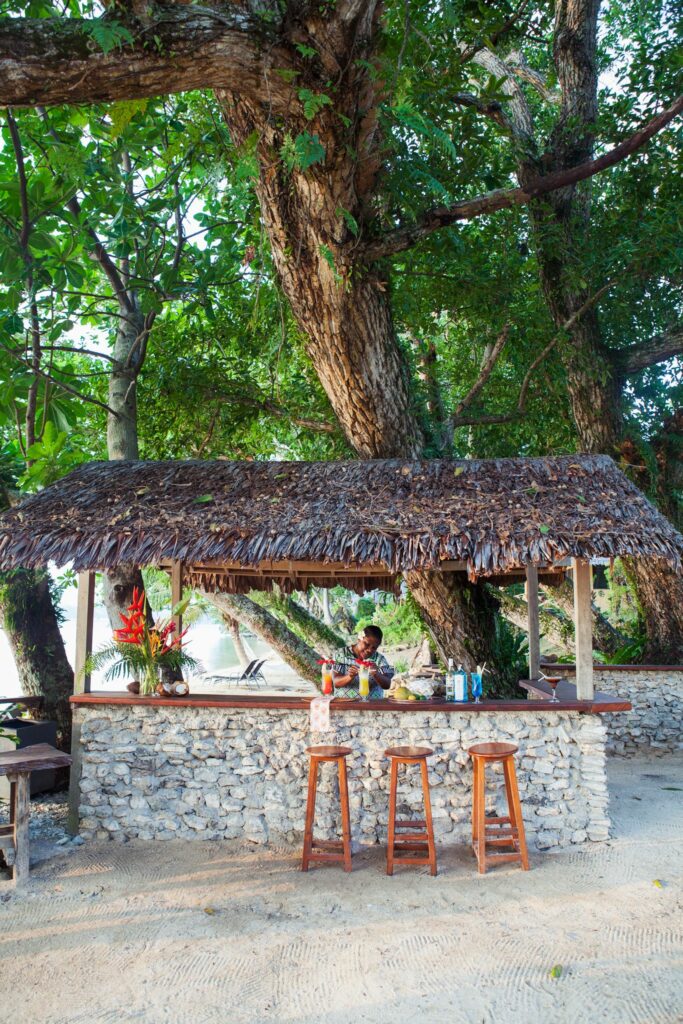 If you're staying at one of the best resorts in Vanuatu, you'll want a sunset to match! The sunsets are beautiful here at Aore Island Resort, so you grab a fresh cocktail and some bread, and head to the jetty for sunset watching and fish feeding.

6:30pm: Cultural Entertainment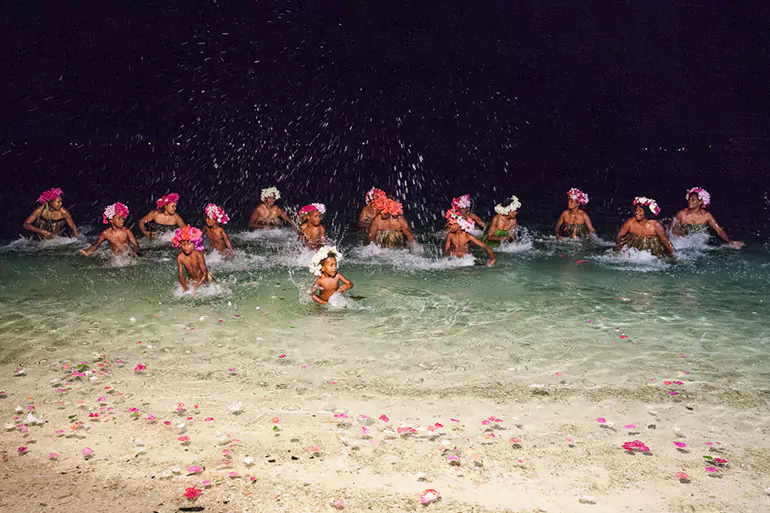 Tonight is your lucky night, the famous Water Music Ladies will be performing in front of the main restaurant tonight. So, grab a seat on the beach, and be amazed by the sounds that are created.
7pm: Dinner Time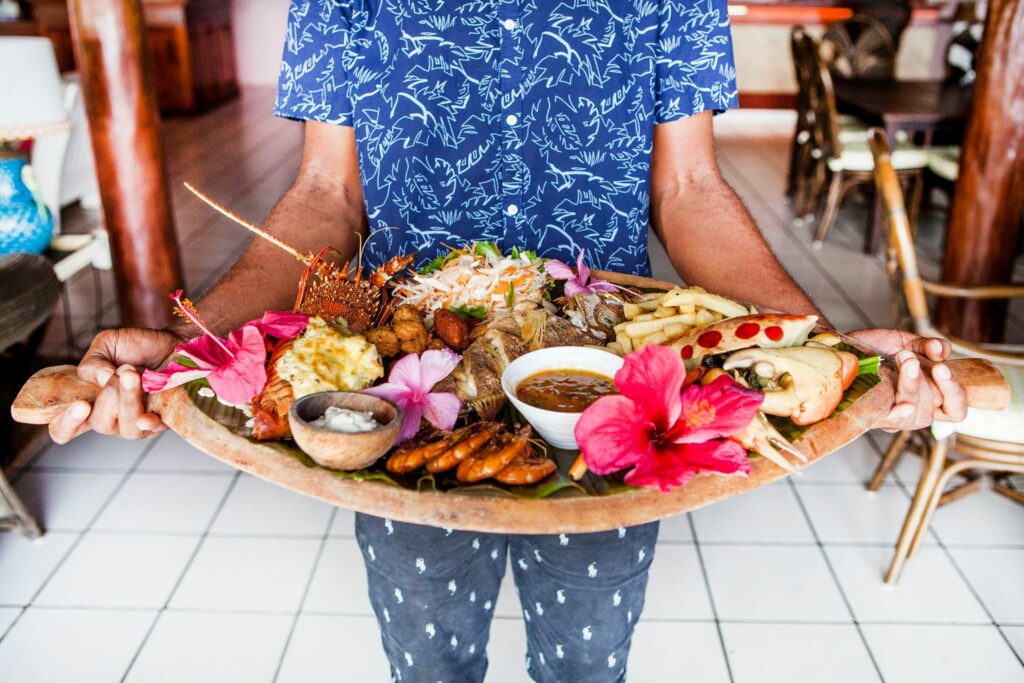 Time to order some dinner! The dinner menu also changes daily, tonight you will need to decide between a fresh lobster, famous Santo Beef, or a delicious Eggplant Ragu. Chef James' famous chocolate mousse will help you finish the night on the right note!
What a busy day! As you meander through the resort jungle paths to your beach bungalow, you cannot wait to see what tomorrow has in store
Need Help Planning Your Day at One of the Best Resorts in Vanuatu?
We can help! At Aore Island Resort, we are a small family-run resort that takes pride in all the details, and we'd love to help you plan your stay with us, whether it involves a day spent at the resort, or checking out the local sites.  We offer accommodation for both families and couples with an adults-only side of the resort, in arguably the best location in Santo – as soon as you arrive you'll see why we think we're one of the best resorts in Vanuatu! Located only 10 minutes by boat to the middle of town within an hour of all Santo attractions, with a beautiful, secluded oceanfront at the tips of your toes. If you need more help with what to pack, or things to do in Espiritu Santo – we can assist with those too! Send us an email to book your accommodation with us, and we'll ensure you have the perfect holiday, whatever your interests.