Espiritu Santo is a stunning island paradise, with a plethora of sites to see and things to do. From crystal clear waters and white sandy beaches to lush rainforests and cascading waterfalls, Espiritu Santo really does have something for every type of traveler. If you're planning a visit to this beautiful island, we'd love to help you put together – and get through – your bucket list. Here is our list of five of the best things to do when visiting Espiritu Santo.
1. Mount Hope Float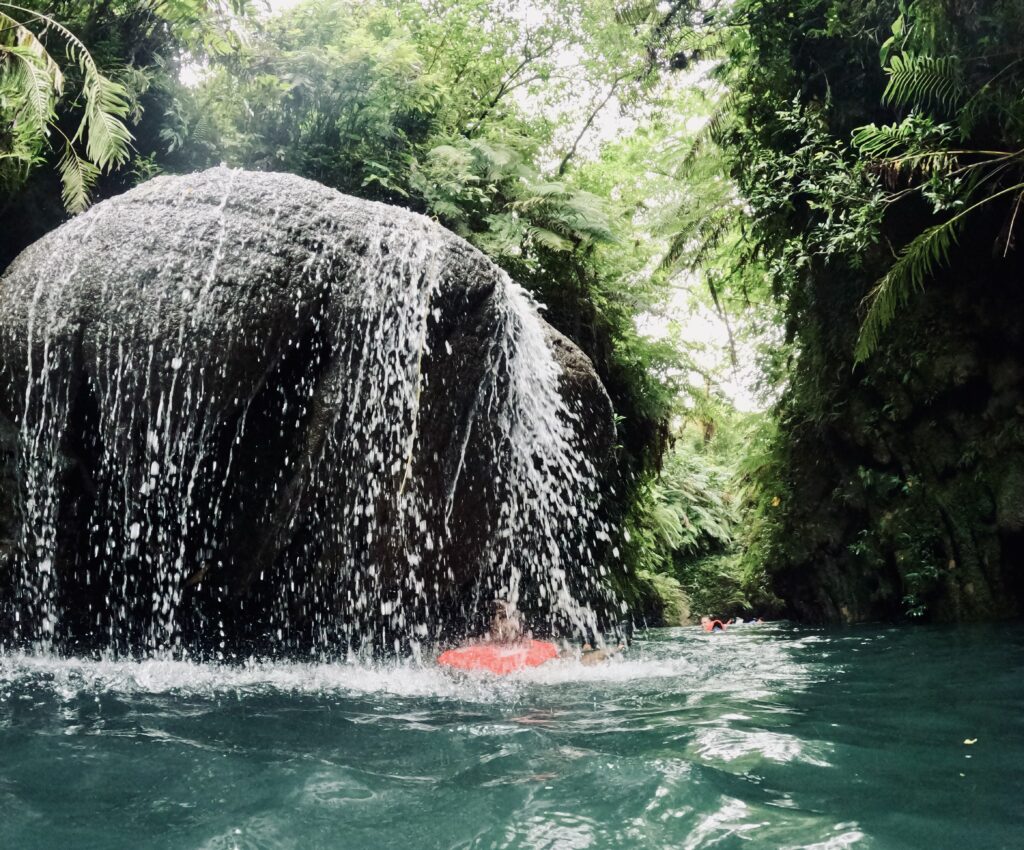 Mount Hope Float is a must-see and do experience in Espiritu Santo.
The adventure starts in the back of the "ute" or "truck", which many guests excitingly exclaim they haven't done since they were a kid in the 70s/80s. The river component of the adventure begins when you are all geared up with a life jacket, hand gloves and reef walkers (Santo Heritage Tours do offer some sizes, but we do advise bringing own) then you step (or jump) into a gentle flowing river.
As you float down this magical and serene river, you will have a kaleidoscope of butterflies fluttering beside you, you will hear the gentle trickles of overflowing water into the river while you take in the gorges and vegetation above you. You finish at a small waterfall where you will scale your way up (it is very easy) and finish with a local waterfall massage. You then finish your experience with an easy walk back to the truck for your trip home again.
2. Beaches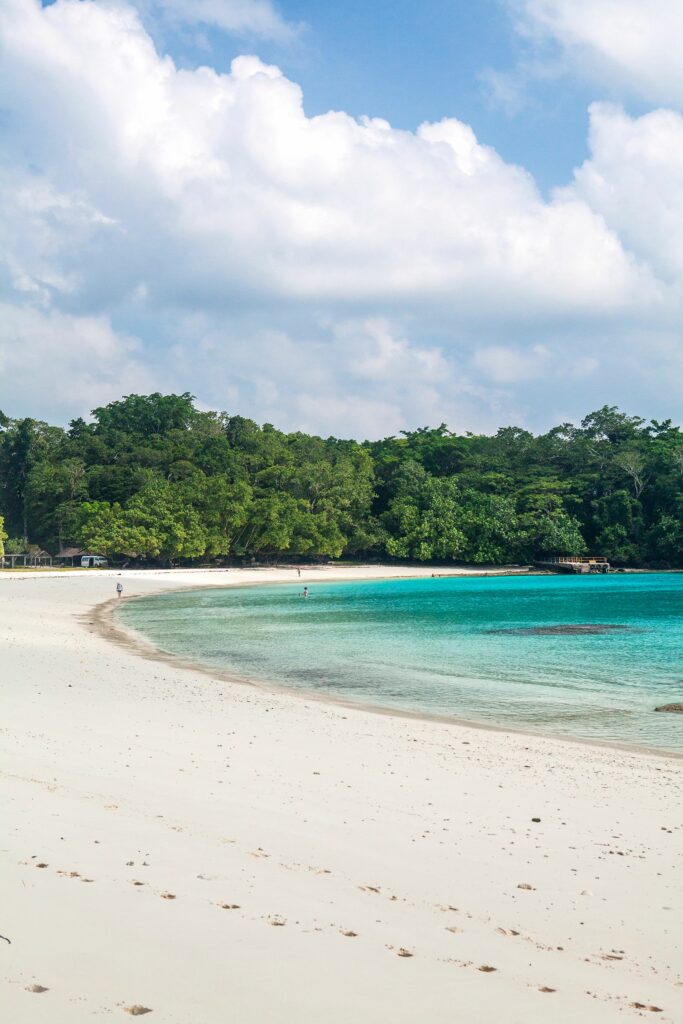 It is no secret that Espiritu Santo has one of the top 50 most famous beaches in the world. Champagne Beach is worth stopping at for a swim and an exploration. The clear bubbling water as you drive into the beach will have you taking a dip in no time! The local huts that line the water's edge, fringed with palm trees are the perfect Instagram backdrop. The best thing about this world-famous beach is that it is never packed with people! You might have to share with some cows and local children playing, but other than that, you get to enjoy this world-famous beach all to yourself!
If you talk with locals in Espiritu Santo, they will often say, "Champagne Beach is nice, but have you visited Port Olry?" Port Olry is an additional 10-to-15-minute drive further than Champagne Beach and is a small French town. To access the beach, you need to enter via one of the local restaurants. Our pick is Chez Louis where you enjoy freshly caught lobster or coconut crab for lunch with your toes in the sand under a beautiful locally-built roof. Now for the best part, the water. The ocean at Port Olry is a milky blue colour like nothing you have ever seen before. In the distance are smaller islands dotted on the horizon which gives you the perfect South Pacific pinch-me moment.
3. Blue Holes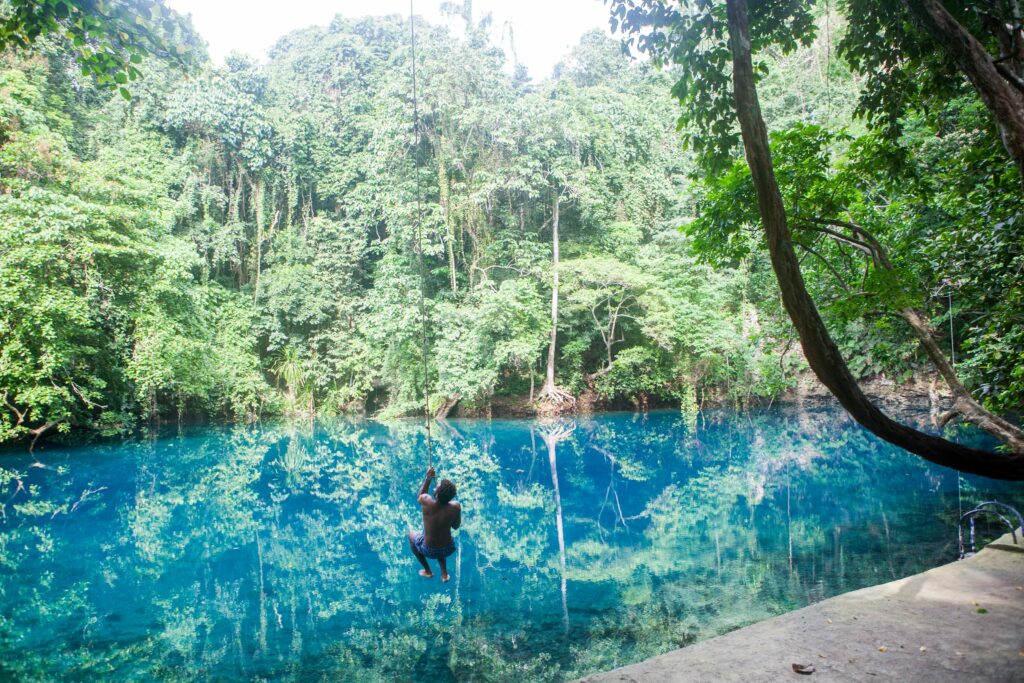 Riri Blue Hole
In Espiritu Santo there are many "wow" moments, but visiting our blue holes is a tourist favourite. These freshwater azure-coloured springs are dotted throughout the rainforests, and make the perfect stop on your way home after visiting the beaches. There are four famous blue holes in Espiritu Santo, but you will probably only see another family or two visiting at the same time.
Riri River Blue hole is a favourite of Aore Island Resort. For this excursion, you will join a local man in his local canoe as he paddles you to the breathtaking blue hole surrounded by jungle. Matevulu Blue Hole is best known for its size, gardens, and banyan hope swing. Nanda Blue Hole is the smallest, with a built platform to admire and jump into the blue hole. Malo Blue Hole is only accessible by boat from Aore Island Resort, and we can guarantee you'll be the only ones there!
4. Diving
Espiritu Santo has the world's largest and most accessible wreck dive in the world! The S.S. President Coolidge is literally a stone's throw away from the resort where ticketed divers can explore the once luxury cruise liner converted WWII troop carrier, and now underwater dive. There are guns, jeeps, chandeliers, and medical vials all still intact. And don't forget to kiss "The Lady".
5. Underwater Life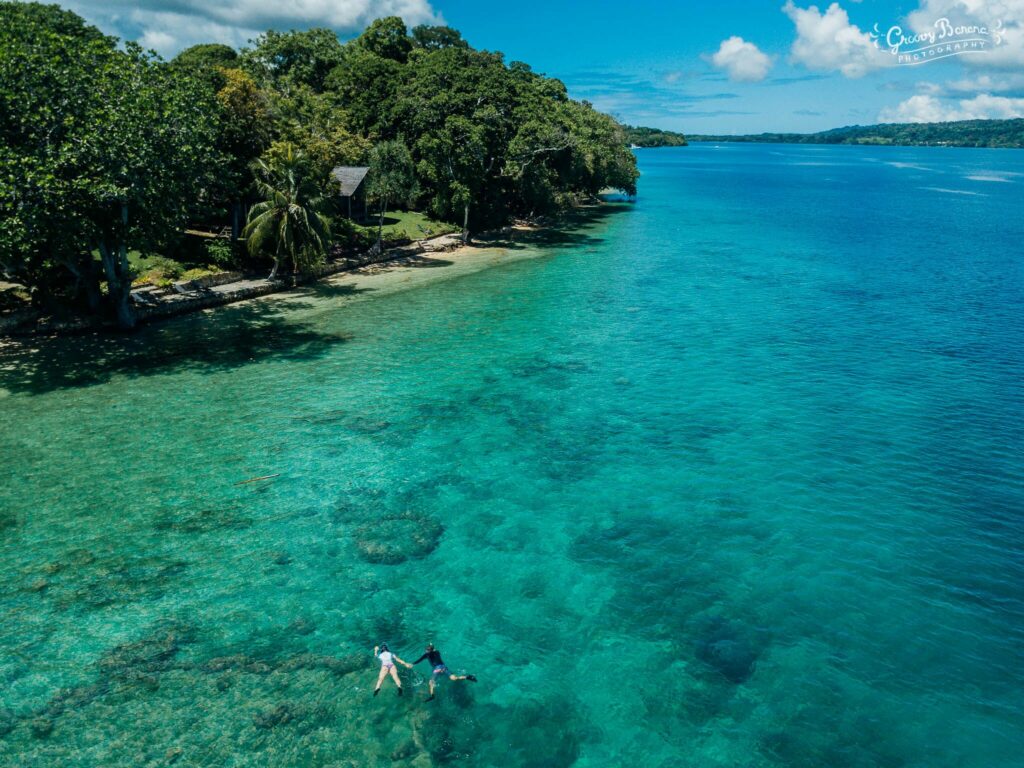 If you are not a diver, that is ok! Aore Island Resort has some of the best coral and marine life straight off our beach. Regenerated coral will keep you intrigued for hours, while our marine sanctuary will keep you entertained until the sun goes down. The reefs are protected from fishing as well as the weather (usually). Did you know, we also have a very rare species of nemo fish? See if you can identify him when exploring our marine world. We are also home to our famous pet fish named "Chuckie" who is a big gentle giant and is over 10 years old!
Keen To Find Out More About Exploring Espiritu Santo?
From diving in the crystal-clear waters to exploring the island's beautiful natural landscapes, there's something for everyone to enjoy in Espiritu Santo. From
snorkelling
to exploring the island's beautiful
natural wonders
there's something for everyone to enjoy. And with the Aore Island Resort's top-notch
amenities
and
stunning location
, you'll have the perfect home base to relax and unwind after a day of adventure. If you're planning a trip to Espiritu Santo to stay with us, be sure to
get in touch
with the resort team to help plan your itinerary – we love to showcase our beautiful slice of paradise and all the magical places to explore and experience!