Like anywhere in the world, your Vanuatu accommodation can make or break your holiday. With so many different options on hand, here are a few things to keep in mind when booking your Vanuatu accommodation:
Location, Location, Location
To find the perfect location for your Vanuatu accommodation, you need to have a general idea of what you want to do. Do you want to be beachfront and only a few steps away from the underwater world that awaits you in Vanuatu, or would you prefer to stay in a more central location to easily access multiple attractions? The perfect Vanuatu accommodation location depends on you and what you want to see and do, so it's advisable to do some activity and attraction research before booking your accommodation.
In Santo there are three main locations where tourists stay; Aore Island, town or East Coast Santo. Each location offers something different, but they all offer the same Santo experiences. If you stay on the East Coast, you are in easy access to town and attractions such as Blue Holes and Champagne Beach. Accommodation options are oceanfront, but some of the access to the ocean isn't as easy as walking out of your house into the water due to coral, low tides, or windy weather. When staying in town, you won't be waterfront, or have easy access to the ocean but you can quickly get to Santo attractions. Aore Island is the best of both worlds, having easily accessible oceanfront in front of your bungalows, being able to explore both Aore Island and Santo, and being within an hour drive to all Santo attractions.
Aore Island Resort is located just off Santo by a 10-minute boat ride. Our wharf is located in the main street, so you can explore town (which is one street), visit all the Santo attractions and then come back to the resort where you can snorkel straight off your bungalow, sway in a hammock with a good book, or feed fish with a cold drink.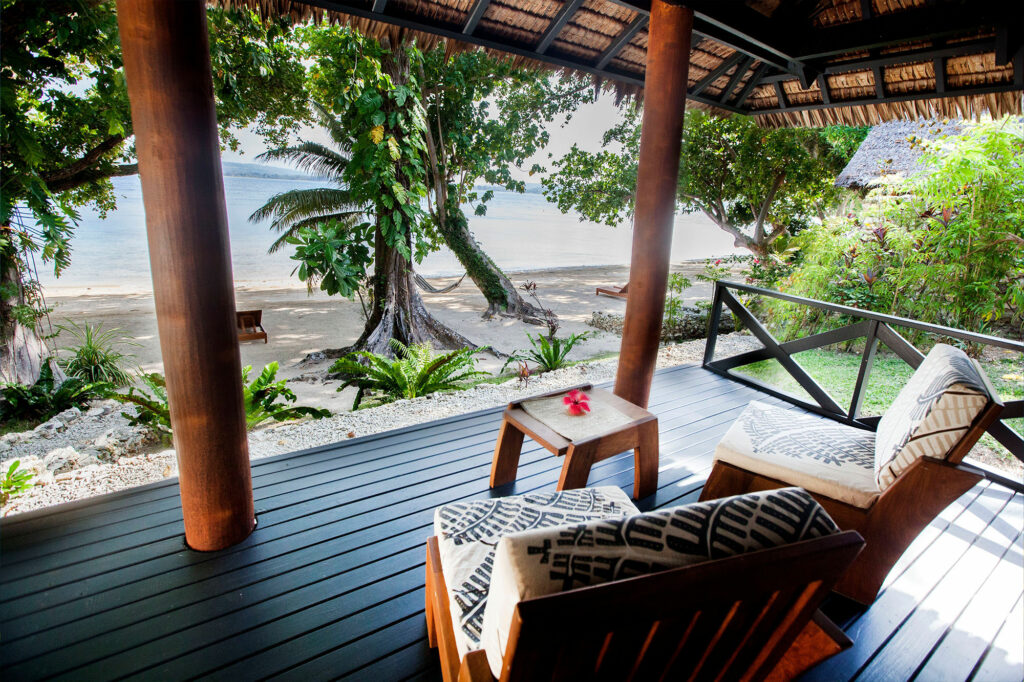 Authentic vs Chain Vanuatu Accommodation
If you like staying at a resort where you can pool-hop while sipping cocktails all day – that's great! There are plenty of resorts to suit your needs. But if you want a more authentic experience, there are also lots of great boutique resorts that offer authentic Vanuatu accommodation without skimping out on the luxury part. These boutique resorts/hotels have gone the extra mile to ensure your accommodation has some Vanuatu flair, and there is usually meaning behind every decision. If you are in Port Vila, The Moso or Tamanu on The Beach is worth investigating. If in Santo, Aore Island Resort or Turtle Bay Lodge are fabulous choices.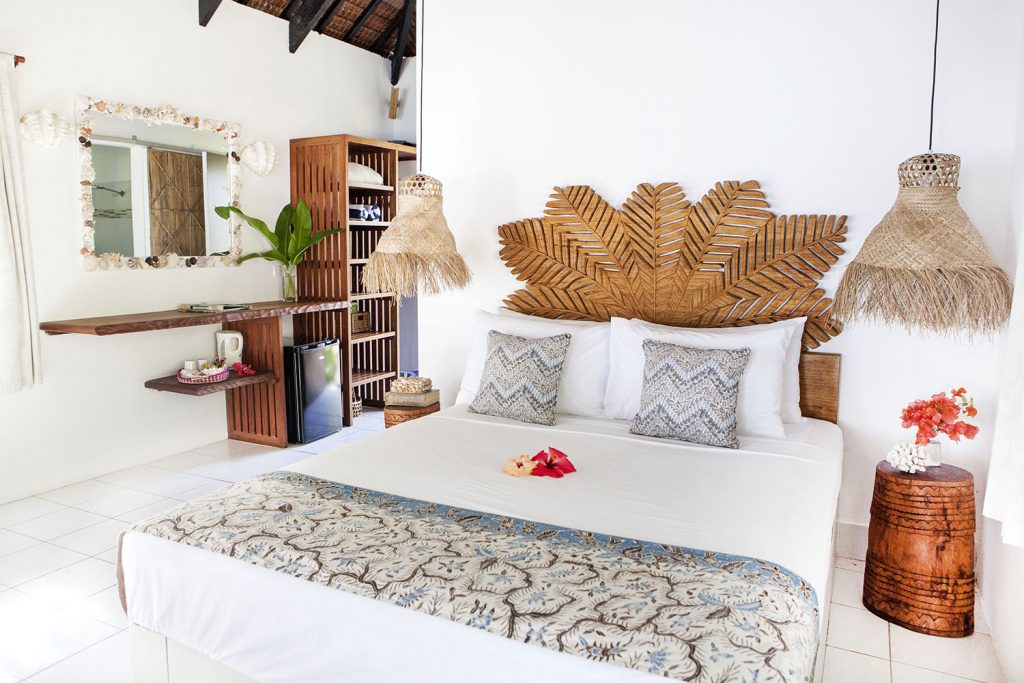 Self-contained vs Resort-style Vanuatu Accommodation
Self-contained rentals are perfect for large families or those wanting to cook their own meals. Something that catches people out when booking self-contained Vanuatu accommodation is that they presume non-motorised water sports equipment is provided, it is easy to go to the supermarket to get food or they will eat at or use the nearby local hotel/resort facilities and restaurant.
Vanuatu supermarkets are very basic and do not carry pre-made food or lots of fancy ingredients, this means you have to visit the local fruit and vegetable market to see what is available or find a fisherman to catch you seafood. Most Vanuatu hotels/ resorts are small in nature, which means if you are visiting in peak season, they may not let you use their pool or eat in the restaurant if they are fully booked.
Some things to ask your host if booking self-contained Vanuatu accommodation:
– What is included? Kayaks, bikes, snorkel gear etc – What happens if the power goes out? Is there a manager on site? – The nearest location of a supermarket or fruit or vegetable market
What Facilities and Amenities Are On Offer?
Every Vanuatu accommodation offers something different. It is best to contact your chosen Vanuatu accommodation to see if they offer complimentary non-motorised water sports equipment, snorkels, or fins etc. It is also great to find out what's at the resort for example gym, pool, multiple restaurants, or what entertainment they put on.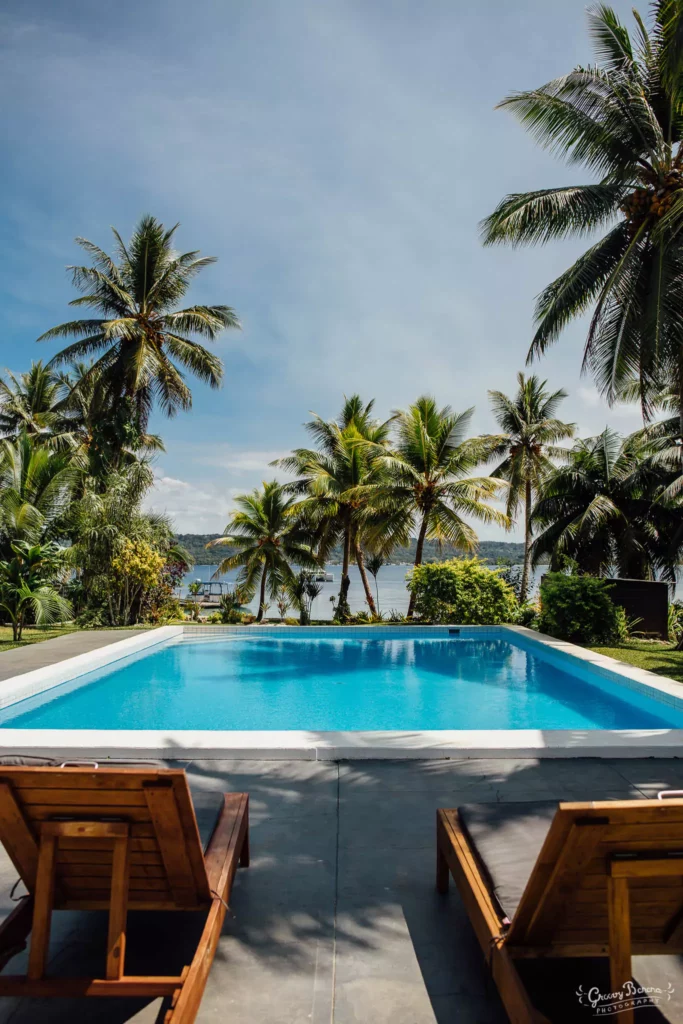 Family vs Couple
You need to find Vanuatu accommodation that suits your needs. If you are a couple wanting a romantic getaway, the big chain hotels might not be for you. If you are a family who wants to drop your kids off at a kid's club for the whole holiday, a chain hotel might be your best option. Always investigate to see how an accommodation can cater to your dynamic to ensure you have the best Vanuatu holiday ever!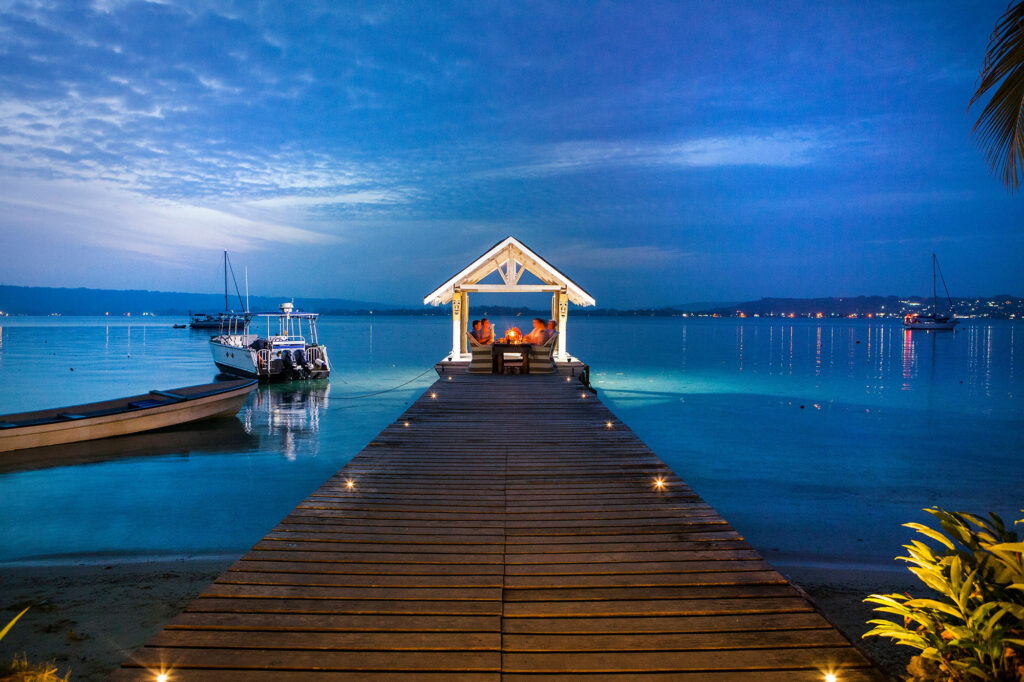 Always Book Direct
When booking your Vanuatu accommodation, it is always best to book direct. If you have a problem or need to change dates, they can make the changes easily for you. If you go through a third party, it is very difficult to make changes. Going directly also usually includes perks that people who book through third parties don't receive such as upgrades.
Ready to book your Vanuatu accommodation at Aore Island Resort?
We offer truly authentic barefoot luxury accommodation. We are a small family-run resort that takes pride in details. We offer accommodation for both families and couples with an adults-only side of the resort. Aore Island Resort is arguably the best location in Santo. Located only 10 minutes by boat to the middle of town within an hour to all Santo attractions, with a beautiful secluded oceanfront at the tips of your toes…literally! If you need more help with what to pack, or things to do in Espiritu Santo – we can assist with those too! Send us an email to book your accommodation with us, and we'll ensure you have the perfect holiday, whatever your interests.