Ready for your next overseas trip but you don't want to spend all day at airports or 20 + hours on a plane? Well, this tropical resort is for you! Located just a couple of hours from Australia or New Zealand, Aore Island awaits with crystal clear water teaming with fish, safe island environments and easy access to world-renowned attractions without the crowds.
Enticed yet? There's plenty more…
Where is Aore Island located?
Aore Island is a part of Vanuatu's 83-island archipelago and is located up north. This 58km2 island is just over 1,900km from Brisbane and a 15-minute direct ferry from Luganville to a palm tree-lined Aore Island Resort.
How Do I Get to Aore Island?
Vanuatu is only a three-hour flight away from Australia, with Sydney and Brisbane the fastest and easiest cities to fly from to Aore Island. Air Vanuatu and Qantas (and soon to be Virgin) fly into Vanuatu's capital island of Port Vila. Here you can transfer onto a domestic flight which only takes 45 minutes to the island of Espiritu Santo (Santo). Once in Santo, it is a seamless transition to Aore Island Resort.
Alternatively, in 2023, a direct flight from Brisbane to Espiritu Santo is rumoured to start with Air Vanuatu, so keep your eyes peeled! Within 2.5 hours of departing Brisbane, you could be on sitting in a hammock at Aore Island Resort sipping your first pina colada.
Aore Island Resort also offers 4 complimentary scheduled ferries daily for in-house guests as well as day guests who eat lunch at the resort.
What You Will Love About Aore Island Resort!
1. Beautiful Interiors and an ode to local design
Aore Island Resort is one of the few tropical resorts in Vanuatu that has kept our interior design authentic to the culture and heritage of Vanuatu. Before anyone asks why our tropical resort is pink – let us answer! The pink colour that is splashed around Aore Island Resort is a colour that is found everywhere in Vanuatu – from the sand on the beach, to the coral and shells and even in the sunset. We felt this colour set our tropical resort apart while still fitting into the Vanuatu environment…for those stickybeaks, have a look at our Instagram to see before and after photos and check out our gallery for more photos.
Our Nakamal (Nuck-ah-mall) which houses our main restaurant, bar and lounge area was beautifully designed by the lovely Brisbane interior design duo Ivy and Piper. The Nakamal, which also means meeting place, features a large gallery wall with memories of Vanuatu and WWII items, our beautiful bar and cabinetry was all made locally with timber responsibly sourced from Aore Island. Our lounge area is full of colourful comfortable lounges paying respects to tribal patterns and Vanuatu's French heritage.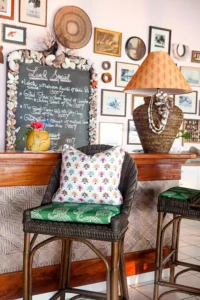 Once in your bungalow, you will notice all the local touches that have been incorporated into the design.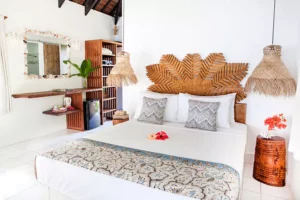 Our Studio Bungalows showcase beautiful bedheads that were carved by a very talented local carver, with all timber responsibly sourced from Aore Island. The wall decorations are all beautifully woven from a Village on Malo Island through Aore Island Resort's local community project, The Woven Club. Our tea and coffee caddies, mats and cushion covers also all woven.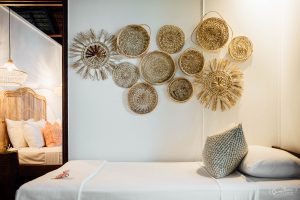 The One Bedroom Bungalows feature the same beautiful details as well as photos and artefacts displayed on open shelving about Vanuatu's history. Shells from the beach have also been used to decorate mirrors and create lights.
2. No WIFI or TV in the bungalows
Yes, you read that correctly! We do not offer WIFI or televisions in the bungalows. Our tropical resort is ideal for those who really want to get away from it all. For those who might find that too much of a challenge, we do offer great unlimited WIFI free of charge in the nakamal. We also have books and games to get the families together. Between snorkelling, sipping cocktails and reading, we promise that you won't miss it at all – especially the kids!
3. Our tropical resort is just footsteps away from the ocean
Our bungalows are so close to the ocean that the waves might keep you up at night – or they might just lull you into a deep sleep! Our bungalows are only a few small steps away from amazing coral and crystal-clear water.  What more could you want from a tropical resort?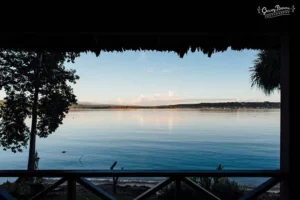 Who needs tv when you have this view?
4. We're home to some of the best natural wonders in the world
Santo is home to some amazing locations. Our main claim to fame is that the world's most accessible wreck dive is right at our doorstep…literally! Vanuatu has some impressive WWII history with The SS. President Coolidge (The Coolidge) being a part of that. Divers from all over the world come just to dive The Coolidge and kiss the lad (we'll let you research that one).
Champagne Beach, which is only a 50-minute drive from our tropical resort's wharf, is one of the world's top 50 beaches. When talking to locals, most will say Port Olry is even more special with its milky blue water, and you can enjoy eating freshly-caught lobster with your toes in the sand (but shhh that's a local secret).
We also have a handful of beautiful blue holes which are a sight to see – we provide snorkelling gear to so you won't miss out!
5. We're close to everything, but still secluded
The beauty of staying on Aore Island is that it is its own tropical oasis while being in paradise…let us explain! Those who have been to Santo will know not much is actually located on the glorious ocean; many hotels and resorts are set back from the ocean due to weather reasons. Aore Island Resort is usually protected most of the year so you will leave the choppy wharf at Santo to calm crystal clear on Aore. But the real kicker is how safe Aore Island is! Yes, you need to be a smart traveller like anywhere in the world, but we have very little crime and violence.
6. Food glorious food!
How could we talk about why you should choose Aore for your next tropical resort holiday without talking about the food and dining? Most chefs in Vanuatu are self-taught and they create incredible dishes. At Aore Island Resort, we have some talented chefs that have become famous for a multitude of dishes. Vanuatu is unique in the way that you get your produce from the local market: each week a new village comes to sell, so what is available that week is only what that village has. Some weeks you could have everything from pineapples to kumala (sweet potato) to banana, whereas other weeks, only peanuts might be available!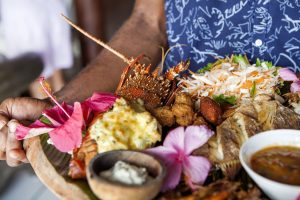 This makes menu creation fun; our tropical resort uses a blackboard menu that changes daily for both lunch and dinner. The reason we do this is to limit food miles and it also supports the locals. All of our protein is dependent on what is fresh that day; some days fisherman will bring in fish, other days lobster or the butcher will supply fresh Santo beef (which has been acclaimed as some of the best in the world). Everything is local as it can be, which is sourced responsibly and ethically.
7. Did we mention you'll forget about your kids?
You may arrive for your tropical resort holiday stressed and on-duty, used to closely watching out for the kids, but we almost guarantee that you will leave feeling light and relaxed! Ni-Vanuatu people love kids – they are practically obsessed! We promise that if you have little ones, you will be enjoying your coffee hot as a staff member will either be cuddling them or showing them local activities. Every day our staff offer complimentary activities that are based on their culture such as learning to weave, making coconut milk, or making their local dish of laplap.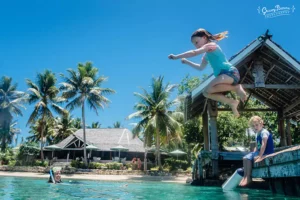 When the kids aren't learning these new skills, Aore Island Resort is the perfect kid haven…especially during school holidays when the resort is overrun by hordes of kids. They are usually taking full advantage of all the complimentary water sports and bikes, which means they will be standup paddle boarding, snorkelling or bomb diving in the pool while mum and dad wave from the nakamal deck with cocktail in hand…it is actual paradise!
Ready To Book Your Tropical Resort Holiday at Aore Island Resort?
Whether it's a family-friendly holiday you are after, or a relaxing escape for two, Aore Island Resort is the perfect tropical resort holiday for you. Located on the sheltered Aore Island just a short trip from Sydney and Brisbane, we pretty much guarantee you'll return home from our resort feeling refreshed and rejuvenated – that's if you ever want to leave!  If you need help booking your holiday with us, please get in touch. We have guides to help you pack, and what to do on our Island. Our family can't wait to welcome you to Aore Island Resort in beautiful Vanuatu.