When coming to Vanuatu we want your trip to be relaxing and stress-free from start to finish. We have compiled this list of handy tips and tricks to make your journey and stay with us as easy as possible.
Please take the time to read through it and if you have any questions or if you require any further information please contact us, we are happy to help.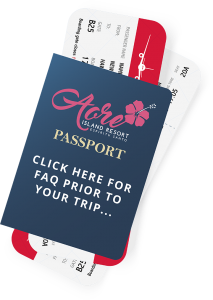 FAQs
Don't Forget to Pack!
Sunscreen and personal insect repellent
Reef shoes if you wish to walk in the shallow waters – coral can cut!
A hat
We use Australian electrical plugs so no need to bring your adaptor if you're coming from Australia or New Zealand.
HOW DO WE GET THERE?
Air Vanuatu is the national airline, they operate from Australia with direct flights to Espiritu Santo from Brisbane on a Tuesday and from Sydney (transiting in Vila) on a Sunday.
Air Vanuatu and Air New Zealand fly into Port Vila from New Zealand. Virgin Pacific Blue also fly into Port Vila.
Flights from Port Vila to Santo run 3 times a day, the flight time is around 45 minutes.
Air Vanuatu also operates a service to Fiji and New Caledonia. Qantas acts as a general sales agent for Air Vanuatu in Asia, Europe and North America.
Flights can be booked online with Air Vanuatu at www.airvanuatu.com
WHAT DO WE NEED TO KNOW ABOUT THE JOURNEY?
Firstly, as it's an international flight please remember your passports and adhere to the liquids requirements of each airport!
Secondly, please print all your flight tickets and itineraries. The customs and arrivals desks in Vanuatu require hard copies of your documents for processing.
If flying Air Vanuatu they really go out of their way to be hospitable, so sit back and enjoy the flight.
Once you arrive in Santo, it is an easy progression through the arrivals hall. Luggage trolleys are freely available though do be prepared to unload everything again to get through customs.
Once outside either make your way to the BP Wharf for a free ferry (times listed below) or look for the driver with the 'Aore Resort' sign. They will transfer you to our boat for your private transfer.
HOW DO I GET TO YOUR RESORT FROM THE AIRPORT?
There are two ways to arrive at our resort; catch a free scheduled ferry from BP Wharf at 7:30am, 8:30am, 11:30am, 2:30pm, 4:30pm or we can arrange an airport transfer with driver and water taxi at anytime of the day or night for 1200vt per person.
HOW OFTEN DOES THE FERRY RUN AND WHAT DOES IT COST?
Aore Island Resort is on tropical island yet it is only a 10 minute ferry ride to the town of Luganville.
Unlike most island resorts guests at Aore can enjoy the sites and tours of the mainland yet still experience the peaceful ambience of a tropical island. The ferries run on a schedule and there are 5 return trips a day. These times coincide with diving, tours and flight times.
Twice weekly there is an evening ferry for guests wishing to dine in town.
These trips are complimentary to in-house guests.
WHAT IS THE CLIMATE?
Aore Island Resort has a tropical climate. From November to April it can be hot and humid but cool breezes along the coast generally keep the temperature at a comfortable level.
The cooler season is between May and October with breezes, sunny days and lower temperatures. In these months you may need a long sleeve shirt or light jacket at night.
The temperature of the sea is always pleasant, varying form 24 degrees in the cooler months to 28 degrees in summer.
IS THE RESORT CHILD FRIENDLY?
Our one bedroom Bungalows are ideal for families as they have a double bed in a separate bedroom and two single beds in the living style area.
The grounds and beach are safe with easy snorkelling.
We do ask guests to supervise their children, especially at dinner time.
For couples, our Studio Bungalows on the east side of the Resort are adults only, providing a quiet, child-free area.
DO YOU HAVE COTS AVAILABLE?
Yes, we have port a cots and mosquito nets available on request.
CAN YOU GIVE ME AN APPROXIMATE COST FOR MEALS?
The Resort has an all-day dining menu and specials blackboard. The prices range from AUD $10 for a toasted sandwich or a small pizza to AUD $30 for one of our famous Santo tenderloin steaks. There is a children's menu and we also cater for vegetarians.
There is the option of a meal plan, at the cost of AUD $75 per person per day. This is one course for lunch and two courses for dinner. Guests are not limited in their selection and may select from the set menu or specials blackboard.
ARE THERE MOSQUITOES?
There are mosquitoes in all parts of Vanuatu, our bungalows are screened to keep them out.
We urge guests to close the doors of their bungalow in the late afternoon to keep mosquitoes out, however insect repellent is supplied in case you forget. We also recommend you use personal insect repellent after dusk. There are nets available on request.
IS MALARIA A PROBLEM IN VANUATU?
There are cases of Malaria in Vanuatu, mainly on the outer islands. No reported cases in Santo for a very long time. We use Mosquito repellent at dusk during the wet season.
WHAT CAN I DO ON AORE ISLAND?
Start the morning off with a paddle board up the coast, see beautiful fish and coral as you cruise by.
Take a single or tandem kayak out for a ride.
Head out on our free fat wheel push bikes to tour our island, grab a picnic lunch and head to a beach.
Take a nature walk with one of our staff members into the jungle, learn how to drink water from the vines, see one of the biggest Bayan Tree's on the island, taste fresh cacao, see wild coffee growing, go inside old WWII American Bunkers and lots more.
Join a coffee Tour and learn how the locals produce coffee.
CAN I SNORKEL AT THE RESORT?
Yes, we have a large selection of marine life and coral straight off our beach, we also feed the fish every morning.
DO I NEED TO BRING MY OWN SNORKELLING GEAR?
In your room we have provided you with your own snorkel and mask to use during your stay.
WHAT ABOUT TOURS TO SANTO?
There are many wonderful tours on the mainland – from horse-riding through pristine waters to taking historic tours of WWII relics to visiting Champagne Bay and swimming in some of the purest, most stunning blue holes in the world.
Please just ask us and we can book one in for you with one of our trusted tour operators.
WHO DO YOU RECOMMEND TO GO DIVING WITH?
There are 2 choices:
Aore Adventure Sports & Lodge www.aoreadventures.com
Pacific Dive www.pacificdive.net
HOW CAN I PAY MY BILL?
We take all major credit cards with a 3.5% fee.  We also take AU$ NZ$ and Vatu.
HOW CAN I GET VATU?
The best option is to exchange your money once you arrive in Vanautu, either at the local bank or store (please ask for more details once you arrive at the resort).